Interview with Blair Irwin, President of Cariboo Rail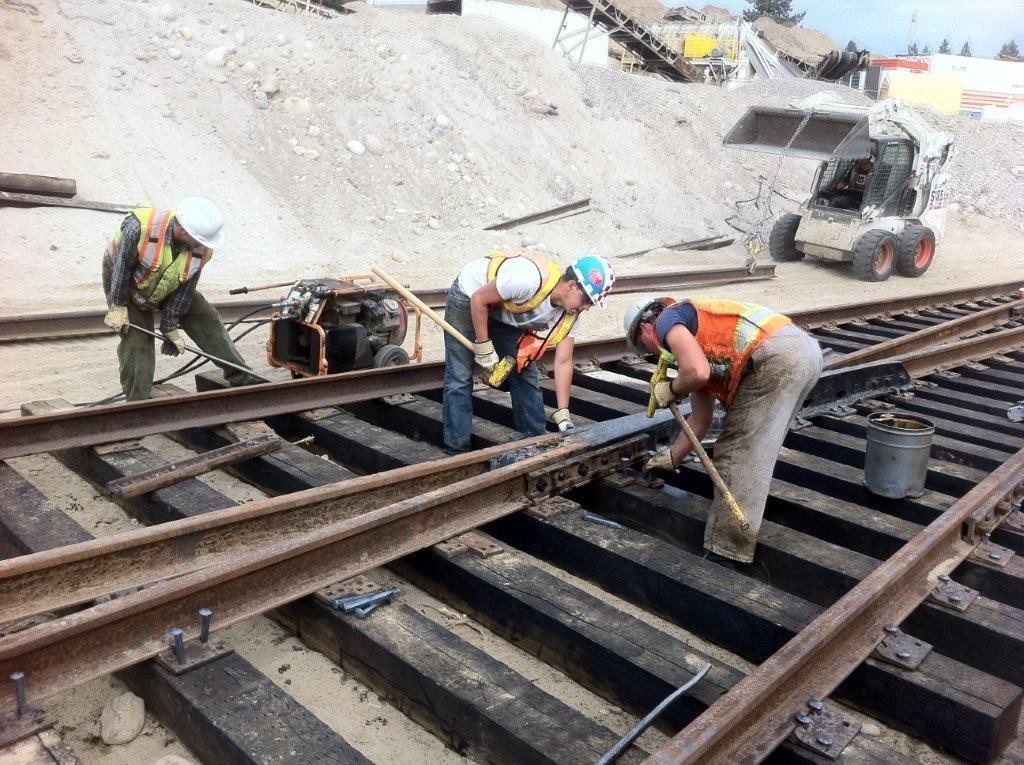 We recently had a conversation with Blair Irwin, President of Cariboo Central Railroad Contracting. Cariboo Rail was incorporated in 2003 on the principals of qualify, safety and good honest hard work. Here are some comments from our talk.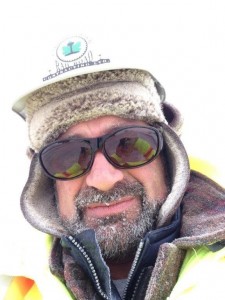 When did you get started in the Railroad business?
I started back in 1980 with BC Rail. It was an entry level position as a labourer swinging a hammer. I was a hard worker and believe that you should give the company what they're paying you to do. I was recognized for the hard work and started to get promoted through the rank at BC Rail. It was a good process as they gave you lots of in-house training as you moved up.
I worked right up until 2001 and left BC Rail as the Senior Track Supervisor. We worked with the Engineering department on many multimillion dollar track upgrade project during that time. I was responsible for 250 miles of mainlines, siding and track working out of Williams Lake.
What sparked the desire to start your own Railroad Company?
Back in 2000 there was a lot of change happening in the industry. I was asked to move to head office but did not want to leave the Interior. We also knew that CN was going to take over and that BC Rail was getting out of the private industrial track business. This was going to create a need for contractors with experience to fill the work moving to the private sector. I knew everyone in the industry like the sawmills, mines, transloading facilities and of course the mainline maintenance.
What was the focus in the beginning for Cariboo Rail?
Well I knew that if we kept to some key principals we could build a good business. We have a real focus on doing an excellent job for the customer. We had lived and worked in the BC railroad environment for a long time so we knew the benchmarks and knew we could deliver a better job for the price given the opportunity. We also focused on our service and backed everything we built or maintained. We felt it was important to respond as quickly as possible to problems a customer was having. Something the big guys can't easily do. I believe that if something goes wrong we have to make it right. If you deliver on the promise for a customer it is more important than making a few extra bucks.
Was there anything unique in those early years that gave you an advantage?
For the most part the work was the same as what we were doing at BC Rail. Still doing a lot of private industrial rail work in BC for maintenance and upgrades. What I did not want to do was become happy with the status quo. It is a huge rail system but a small community that runs it, so keeping a focus on quality was really important to me. I also had to work hard in finding the right people. This was a real challenge to find the experience we needed to fill the jobs we had.
You are now about 140 employees strong was this growth easy to manage?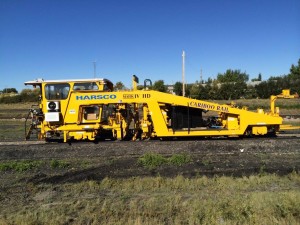 No, we had grown fairly steady for the first 7 or 8 years but realized we needed to get bigger to be able to handle larger jobs. In 2009 we started to bid on bigger projects after we made the decision to buy equipment. By this time we had a strong reputation for keeping it honest, delivering quality and being a good outfit to work for. We had one of the best safety records around with over 10 years accident free. So the expansion in 2009 was really about finding the right people. We went looking for the best people we could find and now have great talent top to bottom from Foreman, Managers and Operators – they are all top notch.
Back then it was tough when you are turning down work and the phone keeps ringing. We had to bring in the right talent to be able to manage growth. It put a strain on our service work and everyone was really pushed but we did it right and I'm really proud of that. Getting the management in place allowed us to grow successfully these last 6 years.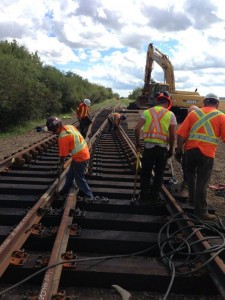 We heard a lot about building a safety culture at the Industrial Railway Conference. It sounds like you've got the same approach at Cariboo Rail?
The Railway industry as a whole has a good culture. We all know we are in it together and there is a culture of support right across the board. For us it is really important because we are only as good as our last job. So we need to be 110% focused on quality and being productive. It is a dangerous industry and you can be working in tough conditions from -30 degrees to +30 degrees and most accidents happen from human error so safety and training is a big deal.
You talked about always sharing your experiences with the younger guys and trying to pass on that knowledge can you talk a little more about this?
Young guys are the key for us, we need to mentor them and teach them everything that we've got. Most of our younger guys come from railroading families but they are college educated and have worked outside the industry. Many have worked for the Class 1 rail companies and then move over to us. We have a really strong group of Mid-Management now that have the education and mentoring skills.
Also the in house training is important and we work hard at passing down the knowledge our senior management has. We are lucky we have such good guys at the top.
What's a new project you are excited about this year?
The new project with AMRT. (Alberta Midland Railway Terminal)
It's exciting stuff because you get to start from scratch and do it right. Having a clean slate and being able to go in and built it out perfectly is great. It is like art to me to see a perfectly straight track or a perfect switch. There is also an opportunity to build a stronger relationship with Dominion Railway, Northern Plains Rail and R.K. Heggie Grain. This is important to Cariboo as we have a long term focus on our relationships. The size of the project is important but not the big focus, it is in doing the job well and being know for your great service and work that is really important for us.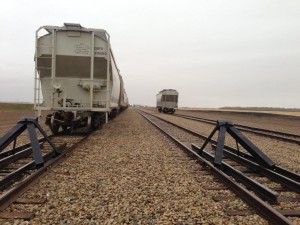 You mentioned it's competitive out there with new outfits showing up, why do you think you got the contract for AMRT?
Well we came to the table with our knowledge and expertise and focus on quality. I think that was a key factor. We also appreciated that we needed to be flexible and work with the ownership group on the construction timeline. The material is landing now and we are really excited to get the first crew started on the first of April. I think another important thing was our relationship with suppliers, we could provide top quality product for a competitive price. I think Alberta Midland recognized that fact.
Where do you see Cariboo Rail in the future – are you expanding?
That's a good question as we are coming out of this downturn in the oil and gas industry. We are now running about 140 people and working from Manitoba west to BC. We have our Head office in Kelowna, shop and office in Grand Prairie and will open our prairie division in Saskatoon this spring and this should handle what we need for the next while. From a railroad perspective I would like to do more shortline work in the future.
Remember, there has been a trend with new maintenance and contracting companies entering the business to drive down prices. We try to ignore that and keep our focus on quality and the long term view. CN and CP no longer have the people to do the work and these big class 1's are no longer training the type of worker we need. So the task now is to try and find the senior people and then train and bring the new experts forward. This is really a key focus on our future plans. I want to be the best service provider in Western Canada not necessarily the biggest. So getting the talent is important and surround yourself with the right people is really important. Then our construction and service work will continue to be excellent and we will continue to have satisfied customers.
I can tell you that after 16 years running Cariboo Rail we still do work for every single customer. That's what I'm most proud of and want to continue. That our hard work and dedication has been paid back with customer loyalty.
On a last word is there anything you would like to see change in the industry?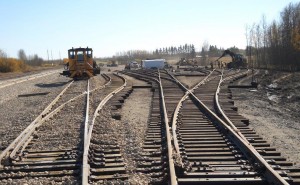 Well Canada is the third largest rail system in the world but we are still fairly regional. So it would be nice to see a move to a more standardized set of regulations across the country.  Get standardization between provinces and the federal transport group. It would make for a safer environment and an easier set of regulations to work under.
I would also like to see a move to high speed rail and this should happen. It is a good choice for the environment and a better way to move goods and people. We should be upgrading our LRT and expanding the network in our cities and projects like the Calgary to Edmonton rapid transit. That's long term thinking but I hope it happens.
For more information on Cariboo Central Railroad Contracting or the Alberta Midland Railroad terminal please visit these links.
http://www.albertamidlandrail.ca/about_amrt.html