The Okanagan Rail Trail is Rolling Along
There are rare occasions where a defunct railway can leave a legacy behind in the way of a Park. In BC the Okanagan line between Coldstream and Kelowna is managing exactly that. The original CN line was converted to a short line several year back. When that line failed economically a grassroots movement began to turn the 48 KM stretch of rail line into a Linear Park.
It makes perfect sense when you consider the rail line is alongside one of the most beautiful lakes in Canada. Kalamalka lake is known as the lake of many colours and lies between Vernon and Oyama. The Rail Line follows the west shoreline and then crosses at Oyama to travel east along Woods Lake and down into Kelowna. The belief is that this new Rail Trail will become as popular as the Kettle Valley Railway Trestles on the East Slopes of Kelowna.
Facts on the Rail Trail taken from the Okanagan Rail Trail website
$22 million – purchase price of discontinued rail corridor.
$50 million – asking price.
$7.86 million – estimated cost to construct the first phase of the trail.
48.5 km – length of trail when completed (17.8 km in Kelowna, 2.3 km in Okanagan Indian Band, 16.3 km in Lake Country, 12.1 km in Regional District of North Okanagan).
24 kms – total distance of lakefront, creeks and truly unique natural habitats along the trail.
1.3 % – maximum grade of the trail.
212,000 – combined estimated population of communities along the trail.
588,000 – estimated # of annual uses by year 5.
43 – number of cultural and recreational points of interest within 500 metres of the trail.
1 – number of international airports along the trail.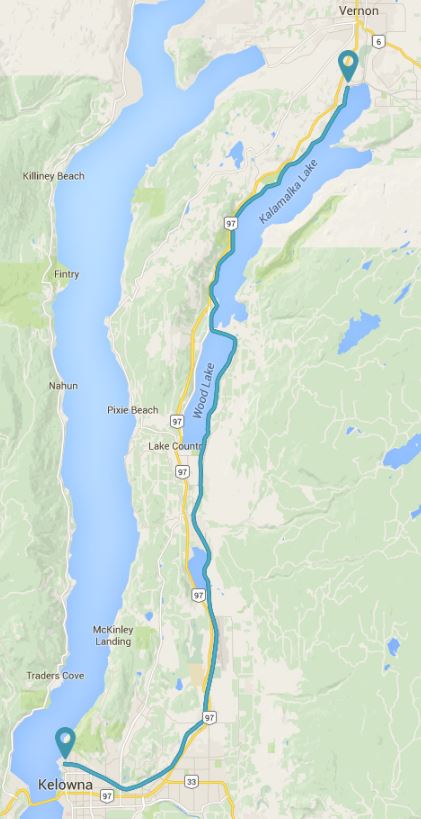 If you have  chance to visit the Okanagan keep your eye on the development of this unique park. It will become a huge tourism asset for the communities and an exciting recreational corridor for the Central and North Okanagan. We can't wait to be able to cycle between Oyama and Vernon beside the lake on this amazing stretch of old railroad.