Jasper to Prince Rupert on the Skeena
For many of us a love of trains is one reason we are involved in the Industry. In Canada we are fortunate to have arguably, one of the most beautiful countries in the world. And there is something special about viewing the landscape from a train as it passes you by.
A favourite Canadian route for its beauty and variety is the Jasper to Prince Rupert train ride. This two day journey is quintessential Canadian railroading. It is also aboard Via Rails vintage Skeena  – which features fully restored 1950's carriages with space age design and curved aluminum elegance.
The trip starts in beautiful Jasper and rolls through the Canadian Rockies on the way West to the Pacific Ocean – 1160 km away. It features magnificent views of woodland lakes, ranchlands, snow capped coastal mountains, rolling forests and beautiful rivers and streams.
The two day trip has a one night stop over in Prince George. This is the commercial and cultural hub of Northern BC with a strong sports heritage, excellent university and famous community spirit. Not to mention lots of forestry, mining, ranching and other frontier style services.
According to the Via Rail Website you have a choice of Economy Class and Touring Class which we think is essential for the tourist as it provides access to the Panorama Car and better views.
Choose the relaxing ambience and attentive service of budget travel in Economy class (available all year), or upgrade to Touring class to enjoy sweeping views from the extra-large panoramic windows of the Panorama car at your seat. You will also benefit from an exclusive access to the Park dome car and a complimentary selection of hot and cold meals.
The original rail stops and stations can be viewed on the sharemap website Here and in the insert below.
Some of the scenery on or near the rail line is simply awesome and depending on the time of year full of wildlife. It is common to see moose, deer, bear, eagle, elk, goat and other "locals" along the way.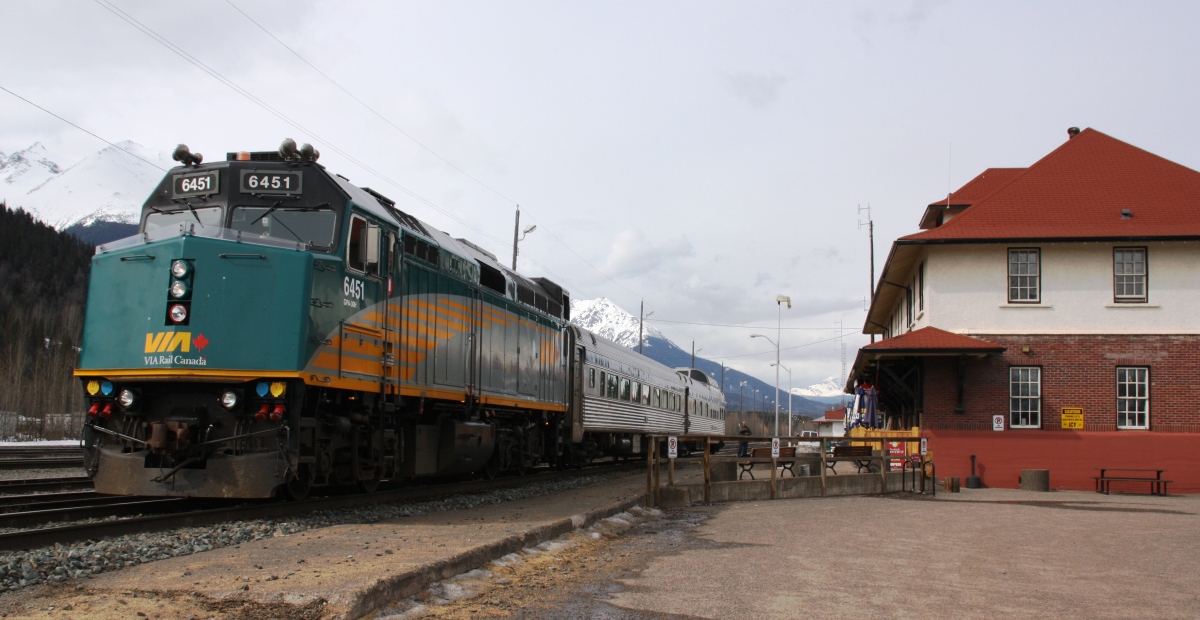 This is a wonderful railway adventure and one worth taking if you are looking for a relaxing journey.